The US delegation will meet regularly in Seattle to build relationships and learn about India – its culture, challenges and politics.  Some of us will study Hindi together.  We will have several team building days when we learn how to best support one another, as well as to develop our cross cultural communication and compassionate listening skills.
Details of the itinerary are still emerging.  We will begin our Journey in Delhi where we will visit a number of NGOs and governmental agencies to gain grounding in the background and current status of girls and women in India.  Delegates will have the option to do some site seeing such as the Gandhi memorial and museum; the Red Fort; and/or a day trip to Accra to see the Taj Mahal. Then we will head to Pune.  In addition to our time with Maher, we will visit an urban woman's foundation.  During our ten days at Maher, we will get to know the women and children of Vatsalysadam, our home base:  This facility, After Pune, will spend two nights in Mumbai before US delegates return to the states.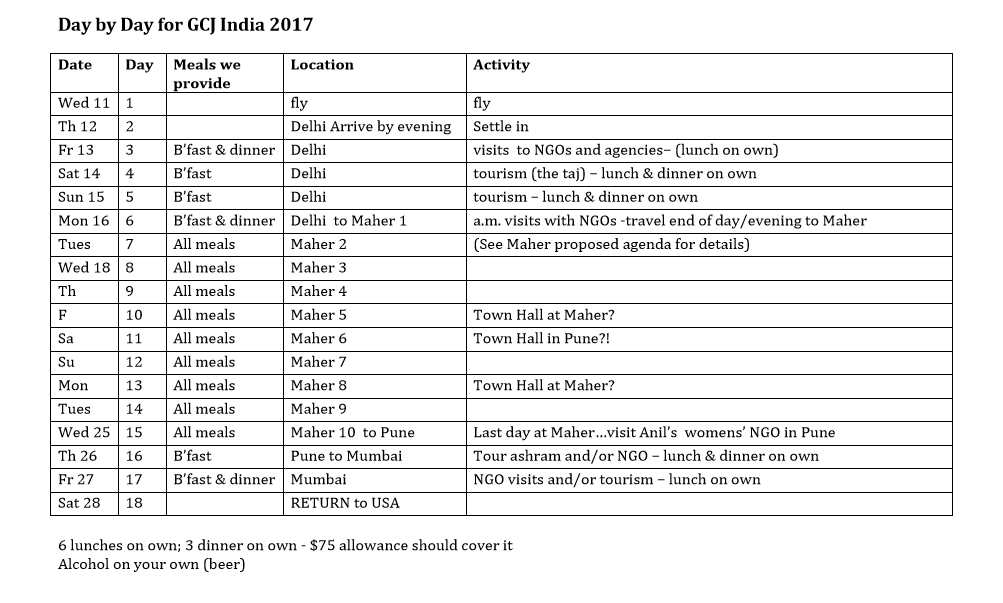 Costs for US delegates are estimated at $3150 – to include all ground transportation, lodging, most meals, and program fees.  Your program fees include contributions to Maher, gifts to hosts and speakers, funding of the vermiculture project, subsidies for some Indian delegates, and costs for the Project Directors.  Airfare is on your own:  all US delegates will gather in Delhi at the designated hotel by the evening of January 12.  Plan to depart from Mumbai on Saturday, January 28.  Delegates may wish to book the same flights; we are happy to assist.  You will also need to arrange for visa (with an up-to-date passport) and inoculations.  You will want pocket money for shopping and incidentals as well as $75 for meals out plus any alcoholic beverages.
Applications will be accepted on a space available basis. You will be asked to submit a $100 nonrefundable application fee via paypal. If for some reason you are not chosen as a delegate, $75 will be returned to you.