About Uganda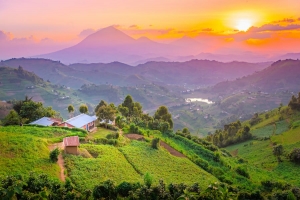 Uganda, officially the Republic of Uganda (Swahili: Jamhuri ya Uganda), is a country in East-Central Africa. It is bordered to the east by Kenya, to the north by South Sudan, to the west by the Democratic Republic of the Congo, to the south-west by Rwanda, and to the south by Tanzania. The southern part of the country includes a substantial portion of Lake Victoria, shared with Kenya and Tanzania. Uganda is in the African Great Lakes region. Uganda also lies within the Nile basin, and has a varied but generally a modified equatorial climate.
Uganda takes its name from the Buganda kingdom, which encompasses a large portion of the south of the country, including the capital Kampala. The people of Uganda were hunter-gatherers until 1,700 to 2,300 years ago, when Bantu-speaking populations migrated to the southern parts of the country.
Beginning in 1894, the area was ruled as a protectorate by the UK, who established administrative law across the territory. Uganda gained independence from the UK on 9 October 1962. The period since then has been marked by violent conflicts, including an 8-year-long far right military dictatorship led by officer Idi Amin. Also, a lengthy civil war against the Lord's Resistance Army in the Northern Region led by Joseph Kony, which has caused hundreds of thousands of casualties.
The official languages are English and Swahili, although "any other language may be used as a medium of instruction in schools or other educational institutions or for legislative, administrative or judicial purposes as may be prescribed by law." Luganda, a central language, is widely spoken across the country, and several other languages are also spoken including Runyoro, Runyankole, Rukiga, Luo and Lusoga.
The current president of Uganda is Yoweri Kaguta Museveni, who came to power in January 1986 after a protracted six-year guerrilla war. He has since eliminated the presidential term limits and the presidential age limit; due to the nature of Ugandan politics, this effectively makes him president for life. Note: Presidential elections are scheduled for early in 2021.
Population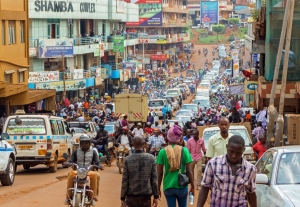 The country has a significant overpopulation problem. Uganda's population grew from 9.5 million people in 1969 to 34.9 million in 2014. With respect to the last inter-censal period (September 2002), the population increased by 10.6 million people in the past 12 years. Uganda's median age of 15 years is the lowest in the world. Uganda has the fifth highest total fertility rate in the world, at 5.97 children born per woman (2014 estimates).
There were about 80,000 Indians in Uganda before Idi Amin required the expulsion of Ugandan-Asians (mostly of Indian origin) in 1972, which reduced the population to as low as 7,000. Many Indians, however, returned to Uganda after Amin's fall ouster in 1979. Around 90 percent of Ugandan Indians reside in Kampala.
According to the UNHCR, Uganda hosts over 1.1 million refugees on its soil as of November 2018. Most come from neighbouring countries in the African Great Lakes region, particularly South Sudan (68.0 percent) and Democratic Republic of the Congo (24.6%).
Religion
According to the 2014 census, Christians made up about 85 percent of Uganda's population, with Muslims making up nearly 14%. The Roman Catholic Church had the largest number of adherents (39.3 percent, down from 41.6 in 2002), followed by the Anglican Church of Uganda (32 percent, down from 35.9 percent). The category of Evangelical/Pentecostal/Born-Again showed the most growth, rising from 4.7% in 2002 to 11.1% in 2018. Adventist and other Protestant churches claimed most of the remaining Christians, although there was also a small Eastern Orthodox community. The next most reported religion of Uganda was Islam, with Muslims representing 13.7 percent of the population, up from 12.1% in 2002.
The remainder of the population according to the 2014 census followed traditional religions (0.1 percent, down from 1% in 2002), other religions (1.4 percent), or had no religious affiliation (0.2 percent).
Source: https://en.wikipedia.org/wiki/Uganda#Demographics
Map of Uganda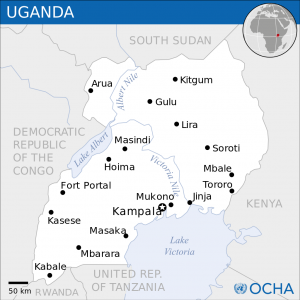 Land Area:  197,100 km2
Water Area:  43,938 km2
Total Area: 241, 038 km2
Source: https://www.worldatlas.com/webimage/countrys/africa/uganda/uglandst.htm
Traveler Information
Immigration and customs:
Passports must be valid for at least six months from the date of arrival. Visas are required by most Commonwealth nationals. If you are travelling on from Uganda, many countries will require you to have a yellow fever vaccination certificate (see Travel Health below).
Travel within the country:
Traffic drives on the left. Visitors wishing to drive will need an international driving permit. Car hire is available in Kampala and at Entebbe International Airport, though those without experience of driving in the country are advised to hire a vehicle with a driver.
Scheduled flights operate from Entebbe to the main towns and charter flights are also available. In urban areas black and white striped taxis are widely available.
Travel health:
Prevalent diseases where appropriate precautionary measures are recommended include cholera, diphtheria, hepatitis A, hepatitis B, malaria, meningococcal meningitis, polio, rabies, schistosomiasis (bilharzia), typhoid and yellow fever. The World Health Organization has recommended vaccination against yellow fever.
Source: http://thecommonwealth.org/our-member-countries/uganda/travel