Global Citizen Journey is excited  about the formation of our  GCJ delegation to Kashmir next October.  We still have several openings and are planning this second Information Night for March 8 (after Executive Director Susan Partnow's return from travels in Africa).  There is lots of information up on the website.  Feel free to contact co-director Irene Michon at imichon58@gmail.com if you want more details sooner than March!  We hope you are intrigued and will begin dreaming of Kashmir with us… The application for the journey is now available.
We are pleased to host this second "Meet & Greet" evening in Seattle on Thursday, March 8 from 7:00 pm to 9:00 pm at the Interfaith Community Sanctuary for anyone interested in learning about Kashmir… and especially for those of you interested to participate in our Kashmir 2018 delegation!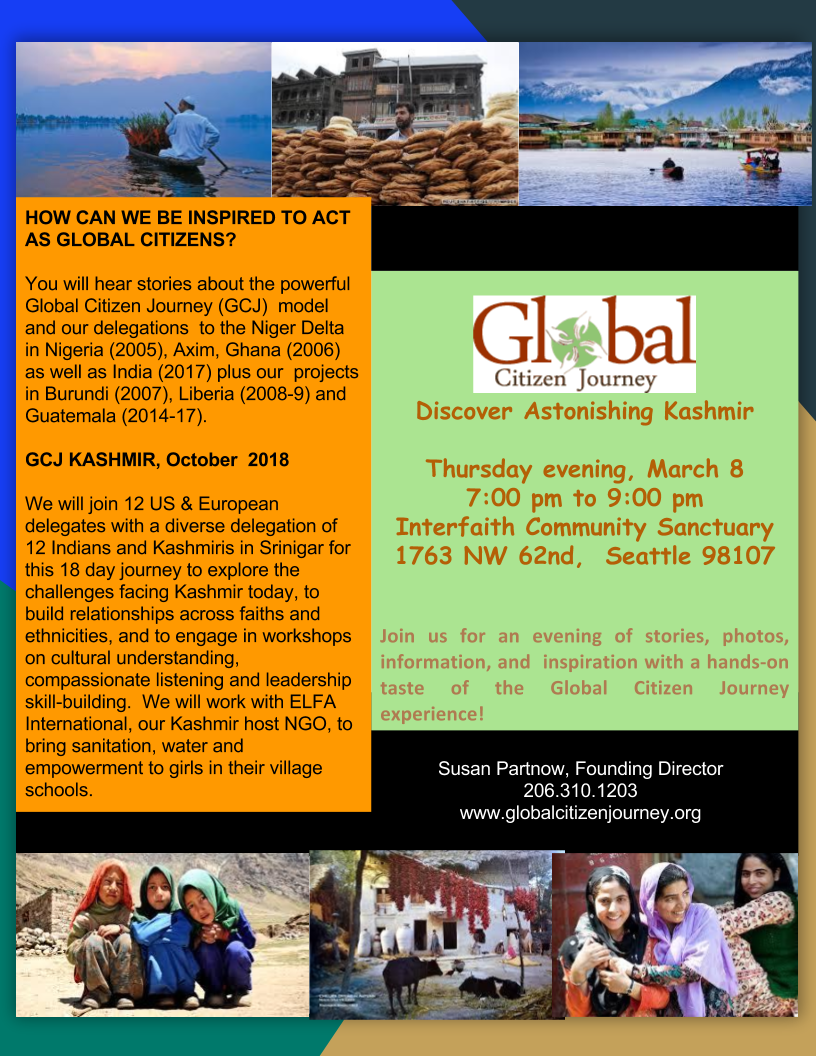 GCJ delegates met many wonderful Kashmiris during their travels in India last spring and they implored us to visit Kashmir and assured us we would fall in love with their beautiful land. They were right! It is a beautiful place with snow-capped mountains, the gorgeous Dal Lake, rich culture and traditions…  And deep pain. The complex and conflictual conditions in Kashmir seem tailor-made for our Global Citizen Journey (GCJ) model and in this time of Islamaphobia and increasing tensions amongst the various big powers on the planet, the time seems ripe. As global citizens, we will listen to the many sides of the issues there and we will bring stories of what we learned back to our home communities. Read more here: http://globalcitizenjourney.org/about-india/india-2018-kashmir-2/
For further details, please contact Susan Partnow at: susan@globalcitizenjourney.org
Follow us on Facebook for information on GCJ events, photos, and more!