On the Way
The flight over proved challenging and began immediately a big lesson in how interconnected our whole planet is:  we were focused on our destination – India – and gave no thought to the conditions en route.  There was a huge snow storm in London the day before our departure, which created chaos all around.  Kathy had to spend well over an hour and half in line just to check her bag in San Francisco, because so many people were snarled in rebooking flights.  Then because her plane was now out of order, they got stuck on the tarmac… When I arrived in London (I'd had very smooth sailing), I was surprised and concerned not to find her as she was supposed to land 2 hours before me – but ended up landing an hour after me!  We did make it on to our flight together… and then.  Aargh.  Had to sit and sit and sit on the tarmac for 5.5 hours.  Yes, that is not a typo:  9 hours Seattle to London, 5.5 hours tarmac, climaxed by over 9 more hours to Bangalore!!!!
Bangalore
But the agony was worth it.  What a land is India!  My friend Kathy and I are having amazing adventures, relishing fantastic food, meeting great people and of course learning so much from new experiences.  We are finding the people here in the South (Bangalore to Tamil Nadu) exceptionally kind and sweet.  We haven't seen even one gesture of meanness – occasional tempers, lots of horn blowing, but only kindness, whether to the stray dog, the persistent beggar or vendor, or the meandering cow in the street.
Arriving at the Bangalore airport was surprising:  its gray tone marble surfaces were strictly 'international neutral' with no sign of smells, colors or images of India.  As we emerged from the airport (negotiating the taxi confusion) we found the streets filled with honking cars, taxis…and rickshaws (ubiquitous tiny yellow cabs driven by motorcycle-like mechanism) – yet not the cows, oxen driven carts or humans bearing burdens so common in much of India.  Bangalore felt like a bustling, thriving, very goal oriented community – everyone working hard and long hours.  When we left the city we saw some incredibly stunning vast corporate headquarters at the outskirts in their 'Silicon Valley' – the most modern of buildings with exciting, creative architecture well beyond our functional but comparatively dull structures in the US!  Yet, at the beautiful offices of Indian Institute for Human Settlements (IIHS) where I offered a half day session on Compassionate Listening, they ran out of water in the afternoon (including for the toilets!) and had to send for a tanker truck.  The growing prosperity and resulting population growth is challenging Bangalore in terms of keeping up with in terms of infrastructure.
We stayed at a lovely, historic hotel (Villa Pottipati) in Bangalore where we were warmly greeted, fussed over, and given such thoughtful care.  For example, I asked where and how I might get the handle to my suitcase repaired – and they made a few calls and arranged to bring it to someone and bring it back later that day, fixed wonderfully, all for about $4.50  (this would have easily cost $50 to $75 here in the US and probably have taken weeks!).   When we asked about arranging a bus ticket – one of the staff walked us to the agent and supervised the transaction.  The Villa seem to still carry a colonial air of British days:  the gate keeper had an awesome moustache!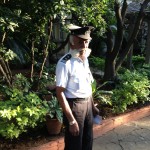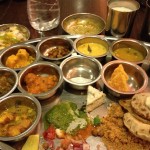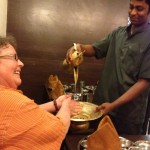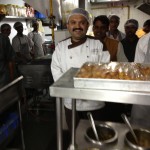 My hosts from the IIHS took us to dinner for a traditional Gujarati meal, where there are about a dozen different little dishes set out in a pattern of the elements of sweetness, spice, salty, etc. to provide a balance of flavors.  It was quite amazing – and the presentation and service astonishing:  each thing served in a certain order and way.  Many attendants – all beaming and proud – a ritual, not just a meal.  Afterwards the cook came out to invite us back to kitchen to see where all the magic happens.  Food is such an important part of our identity and pride!  Indeed, what I am loving about this rich, ancient land is how ritual, spirit, deeper layers, are enfolded into every action, well beyond the transactional one we Westerners so often abide in.
I presented a half day session on Compassionate Listening to IIHS and was pleased to learn the practices were as needed in India as in the US.  People appreciated learning to 'slow down to the speed of wisdom' and experience listening without problem solving or commenting or interrupting.