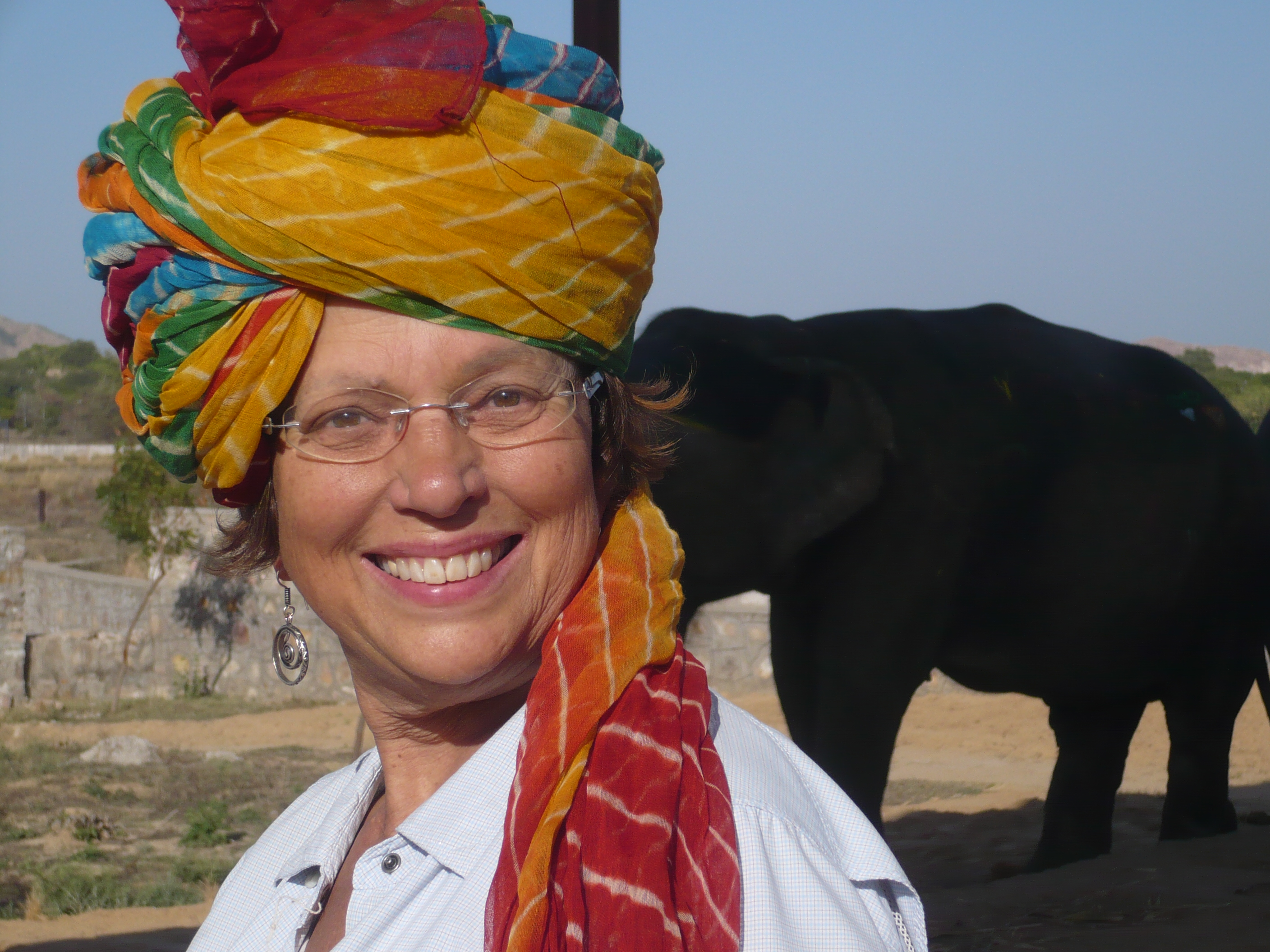 Oh my.  Jaipur was astonishing.  Take a few moments to fantasize what a fabulously wealthy and artistic lineage of maharajas would create… and now multiple it up by several powers of ten and you may begin to imagine some of the wonders we saw.  The older Amber Palace atop a mountain – multiple courtyards – a brilliantly designed system of air/water cooling and plumbing from the 16th century (and we thought we were creators of sustainability and environmentally responsive design???!!).  Jewel, granite and mirror encrusted gorgeous designs everywhere.  Suites for harems, administrators, billiards, relaxing, writing, dance-music performance, etc. etc. A floating garden.  Another 'floating' palace – known as the Water Palace – not far away – where the sultan could relax and hunt ducks undisturbed…  Fort with an incredible network of walls and watch towers that seemed like the China wall.  And then – several centuries later, abandoning Amber Fort… and creating the City Palace in Jaipur itself with it's adjacent astrology/astronomy center (Jantar Mantar – a garden like park setting filled with futuristic incredibly accurate structures to track time and stars – within 20 seconds!!) and the Wind Palace (Hawamahal) where the harem was housed in beautiful glory…  One example to help you imagine the scale of life:  in early 19th Century the Raj was going to London for a big exposition.  He wanted to be sure to have enough water from the Ganges along for the trip and so had two enormous pure silver vessels constructed to take along – the largest silver containers ever made – about 6 feet tall and 6 feet in diameter…  (When near the Ganges people fill containers with holy water to bring to their homes as we saw in Haridwar and soon in Varanesi) –And on and on.  The old City is surrounded by a lovely crenellated wall and all is painted in a pinkish salmon tone thus Jaipur is known as The Pink City.  We capped off our day of touring with a visit to Tiger Palace (Nahargarh Fort) – which floats high above the city with an incredible view.  I hope you get to visit some day!
The handicrafts of today are also astounding and incredible in array, abundance and skill (and sadly with aggressive hawkers as well!).  Rajasthan is a riot of colorful irresistible delights – clothing, puppets, statuettes, purse, etc et.  I bought my first gorgeous rug:  hand tied (not just hand woven) – pure camel hair – stunning – and I hope exactly right for the living room!
Our pleasure was enhanced by our 'tuk tuk' (motorized rickshaw) driver – Mohammed – who took us around in his 'helicopter' and made the days flow with ease and insights.  It was fascinating to talk to him about various customs, especially regarding arranged marriage.  He met his wife for the first time at the actual wedding.  His parents had first gone to meet her and her family.  Then her family came to meet his… Even after the engagement they did not meet.  He said he was really scared. Yet within a few months they found a great connection and now, many years later, continue to be very happily married.  Considering all the divorces in our world – even amongst couples who live together before marrying – who is to say the family arranging is such a terrible approach!
Once night we went to Chakhi Dhani ('good hut"),  a sort of outdoor museum-restaurant-amusement park.  mainly filled with Indian tourists and families… There were many areas with various performers –  acrobats, magic tricks, puppet show, lots of music and dancing (where you could get up and join them), some dancing with a tall stack of pots on their heads!  It was colorful and fun… though everyone seemed to be reaching out their hand for a tip… The locals didn't seem to get hit as hard up as we did…One group of dancers was really obnoxious, with a dancer immediately sticking her head right in my face saying "MONEY! MONEY! with an ugly look on her face –Before I was even able to join in any dancing.  Ugh.  Clearly she despised me/what I stood for.  The experience was repulsive.
Still.  And yet.  The press of humanity and beggars here compounded by hawkers, touts, etc. are continuous reminders of the daily need to make a living, and the extreme poverty for many… magnifying the huge economic gap and injustice of how our world is organized. On the one hand I hate being continuously hawked and having prices inflated because of the color of my skin and passport… and yet I totally understand it and feel guilty when ignoring a beggar or trying to bargain down a few bucks that here could feed a family for a week or send a child to school.  These dilemmas strengthen my resolve to continuing working for social and economic (environment too) justice.   I've been reflecting a lot as I'm reading the story of John Wood, founder of Room to Read:  what is the best leverage point for change?  I think he is spot on:  education – especially girls' education — and these learned ones will find the local solutions.
We enjoyed a lovely garden hotel in Jaipur – with a great hot shower, well functioning wifi and large urn of coffee for easy refills at breakfast. And it's so great when the hotel/guest house has a common dining room – we meet interesting people and make new friends and get great travel tips.  Ahh the joys of creature comforts are every so much more appreciated when they become rare!
One night I went to the movies:  what a kick!  The Raj Mandir Cinema is a tourist attraction in its own right – being in it was like being inside a fancy birthday cake!  Movie goers came early to sit in the many lounge areas, schmoozing with friends.  The huge theatre held over 1,000 with very cushy sofa like chairs (at least in my section).  The movie was of course in Hindi…  The audience was lively and vocally responsive to what was going on…At first I thought, oh no, a serious shoot 'em up action flick.  Fortunately, 30 minutes in to the main characters all broke in to a riotous corny romantic Bollywood type scene with singing and dancing.  Got me grinning ear to ear.
Another fabulous day:  We headed to Elefantastic, developed and created by a delightful young man, Raoul, whose family has cared for the Maharaja's elephants for generations.  Over the years he listened to many tourists (especially from US) who expressed concerns about ill treatment of elephants.  As a deep lover and appreciator of elephants, Raoul was inspired to create an experience for tourists where they could enjoy the elephants and understand how kindly and well they are treated.  This is such a great story of how 'global citizens' can seed transformation in our world.  He has dozens of elephants under his care, where they are housed in a government 'elephant village' complex in very plush quarters.  Each elephant lives with her lifelong rider – the bonding between then is extraordinary.  He explained that they try to match a mature, older rider with the young elephants, to balance their energies.  We were picked up at the parking lot by a horse driven cart and taken to the site.  We fell in love with 'our girls' as the three of us – Mary Ella, Kathy and I – were assigned to two lovely pregnant elephants for the afternoon.  We spent quite a while feeding and fondling them.  As they became accustomed to our scent and voices mutual cuddling increased!  We had a delicious lunch back at Raoul's home – mom and wife are great cooks – Our heads were wrapped in sultan style.  Later we had a great bareback ride; decorated them with natural colors; and finally road other not-pregnant elephants in a saddle like 'box' through a near by nature preserve festooned with fragrant leis of roses and marigolds.  What a terrific experience!
Sawai Madhopur
After Jaipur, we headed SE to Sawai Modhpuhr.  We enjoyed two safaris, (dawn and dusk) at Ranthambhore National Park –the former hunting ground and 10th century fort of Jaipur's maharajas – until 1970!   Alas we were not blessed with seeing a tiger – but we did see massive fresh footprints (at least 7' in diameter!) , scratch marks –  Real life and death drama – what a thrill to sit there knowing anything could sat in awed silence as the jungle break out at any moment. The guide believed it had been a leopard since the alarm didn't last as long as for the slower moving tigers.  Leopards are very shy and rarely seen.  Our jeep mates had seen a tiger the day before – sleeping just a few meters from the jeep! We were blessed to see many creatures plus the beauty of the park and holy banyan trees: langhur monkeys, several parrots, parakeets, many other birds including   2 raptors, gorgeous woodpecker (black butt?) , '7 sisters' and 'toothpick', owl, crocodile, delicate spotted deer and others with huge antlers, squirrels, rabbit, etc. Our backs and rears are tired from the bumpy ride – but our souls are soothed and blissful from the beauty we saw.  The 'tourist trade' that has developed around the Park helps provide the funds and political will to maintain the preserve – and develop others.
(PS: No sooner were we 30 minutes out of town than my phone range:  dear Kamlesh, friend of Mona Lee (who wrote about him in the fabulous book, Humbler Than Dust: A Retired Couple Visits The Real India By Tandem Bicycle) and Dick Burkhardt, called… He had come to our hotel just after we had left.  Oh no!  It turns out there was terrible miscommunication –He and his cousin Vijay's whole extended family had been looking forward to our visit!  We learned all of this on our last night in Agra – when Vijay happened to be in Agra and insisted he stop by for our last hour before heading to the train! I am so grateful to have that time with him. Vijay and Kamlesh are both so charming.  So a return visit to S.M and the tiger preserve is on the list.  (Oh dear:  almost every place we've been is still on the list – it's hard to eliminate anything… plus there are so many regions we didn't get to!  May I live long enough!)