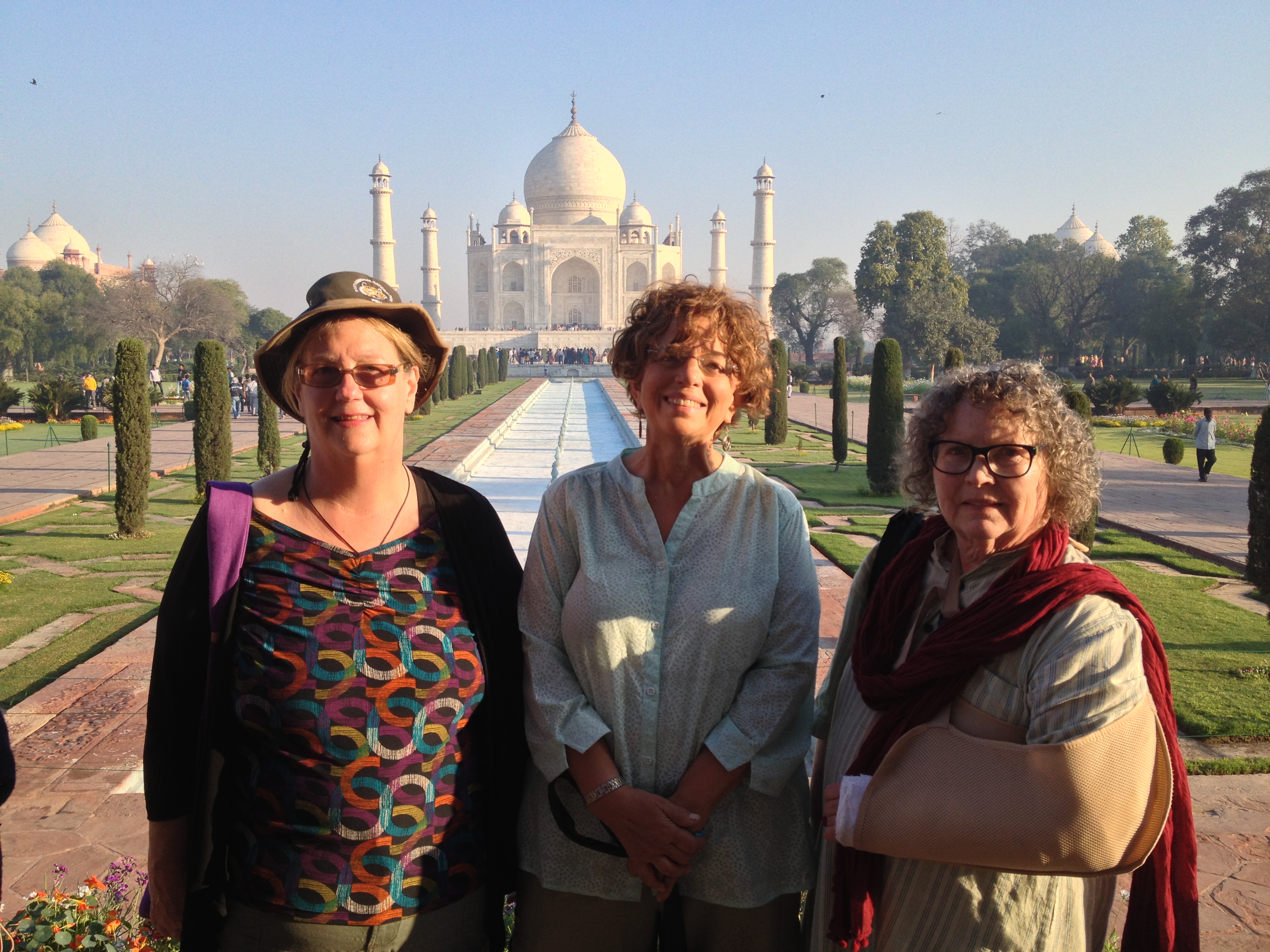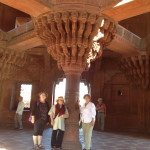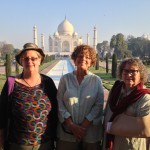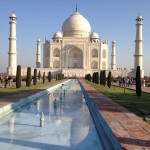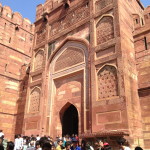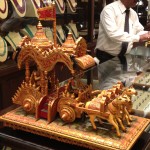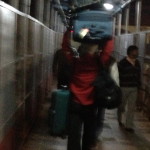 We headed out early towards Agra in an especially comfortable and spacious car for the three of us, arranged by a travel agent.  Interesting that all the stops were now at much more upscale (and expensive) restaurants that were also filled with overpriced souvenirs to buy.  I kind of missed our more low-keyed grassroots experiences.
We stopped at Fatehpur Sikri, built by Emperor Akbar, capital of Moghul empire during its hay day in the 16th century.  This spot was chosen as the Emperor made a pilgrimage to a saint in hopes of a blessing for fertility so he would have a male heir – when his hopes were fulfilled, he moved the capitol and built this splendid City (such were the riches of Emperors), soon to become a ghost town as there were difficulties with the water supply.  Akbar was a fascinating character:  Muslim but extremely devoted to inter-faith (indeed, he developed a new religion called "Deen Ilahi" to try to synthesize all faiths.  His palace included fabulous structures for Hindi and Christian as well as Muslim.
We reached Agra and found our carefully selected hotel was indeed close the walls of the Taj – but now within a restricted zone where taxis cannot enter!  This added great complication and confusion for transferring our luggage – having to find a bike-driven rickshaw that could manage it all… Plus we had to walk all the way out of the zone in the morning to get our ticket and then walk back in to get to the Taj!  So future travels:  best to stay just outside of the zone!
In any case, early the next morning we ventured forth to be put under the spell of the Taj Mahal.  Once I beheld this wonder with my own eyes and soul I came to understand why it truly can't be missed… It was splendid to see it throughout the day plus in evening from across the river to enjoy its beauty in changing light.
Our driver and tour guide led us through an exhausting, full day of shopping – visiting factories where descendants of Taj artisans create exquisite mosaics in the same fashion as the Taj – gem and jewelry showrooms – cloth – (India is the most extraordinary place to shop and find amazing handicrafts of great quality and skill, as well as schlock.  What a rich culture and heritage).  We saw a number of other gorgeous sites – the Agra Fort (very similar to the Red Fort in Delhi) and across the river, the enchanting Itimad-ud-daulah.  It was interesting to learn that while the Taj is flourishing, Agra is suffering:  the government made drastic zoning changes a few years back to ban any factories in the vicinity, to prevent any further degradation from pollution.  Agra had been home to many factories producing rugs, textiles, etc. and now those jobs are all moved quite a distance away.  The only work left relates to tourism, with little opportunity for advancement, which is a hardship for many families who have spent generations and feel wholly identified as citizens of Agra (suc as our guide who explained all of this)
As a back drop to our time there – Mary Ella spent much of the day in our hotel room, feeling quite ill… And we anxiously awaited word of whether we could get on the train to Varanesi.  We had resolved to pass it up as trying to squeeze in too much – plus concerns of over-the-top crowding because the Kumbh Mehla was near-by and still going on with record crowds of
100 million…  But we decided we just had to try to get there to meet the soul of India.
Sadly this mean a trade off so we had to miss the otherwise planned visit to Pardada Pardadi –a wonderful business model for girls education and empowerment – my journalist daughter Jessica created a great podcast about it some years ago:
http://clpmag.org/article.php?article=More-than-Mouths-to-Feed_032
After many anxious phone calls and text messages – we were relieved to hear we had been moved up the waiting list for the overnight train.  (We learned – if you are within the first 10 on the list in second class you are just about guaranteed to get on.  Don't wait list in first class as there are too few seats and thus few changes).