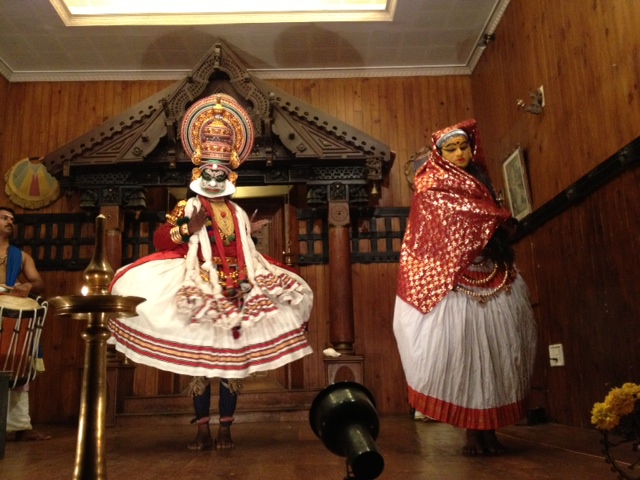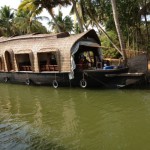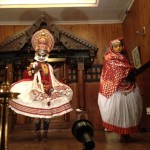 We are in paradise – but oy oy oy so hot and humid.  We enjoyed our days in Fort Cochin – old alley ways and winding streets, zillions of hyper-active shop keepers (with signs protesting 'hassle free' – gotta be some of the world's best salesmen!).  A favorite activity was going to see a fascinating historic theatre style unique to Kerala called Kathakali:  the actors use gesture, body posture, incredible eye movements and mudras to tell the story.  The make up process takes about 1.5 hours where the actors use natural elements in 4 basic vivid colors:  red, yellow, white and green.  Some of the characters have additional features made of rice paper mache 'glued on' with coconut paste.  We began the evening by observing this fascinating process.  To think the actors do this every night!  For them it is a ritual and meditation as well as preparation of costume, so they are ready to act out the sacred texts of the Mad….  The theatre was such a sweet space – intimate, made of beautiful old mahogany.  (And our wonderful host from the hotel got us front row seats.)  They prepared the space in such a beautiful way before our eyes – adorning the statue of Vishnu and Kali with flowers, drawing mandalas on the floor, etc.
After the play we were fortunate to enjoy a concert of traditional ragas – wonderful sitar and __ drum.  This little arts center is dedicated to preserving-renewing Keralan traditional arts.  I was so inspired I returned the next day to watch the traditional style of martial art (kalarippayat), which up to about the 16th century   was learned by all youth (boys and many girls as well).  Indeed it seems the roots of ayurvedic medicine came from the skills of the martial art teachers in healing the many cuts and broken bones their students would acquire from this fierce form (sticks, swords, knives and a wicked long curling lasso like weapon that is like barbed wire:  outlawed now except by license to advanced practitioners of the art!).  During the demonstration my arm was slightly burned by a spark flying off the stage during the knife fight!  The real stuff.  Fortunately there were no mishaps!
Cochin (also known as Kochi) is definitely the most touristy place we've been – but rightfully so.  So picturesque and pleasant by the sea.  Huge butterfly nets for fishing in the Chinese style (apparently the only other place in the world outside of China where this is used. Here it's a legacy of Kubla Khan from 14th Century)  We were fortunate to be there in time for a fabulous first-time international Biennial art festival with incredible contemporary art exhibitions by Indian artists from through the country and some from expats living abroad.  Very stimulating and innovating.  As all of India – a delight for the all the senses – an amazing interactive mobile making different sounds; one with spices/scents.  Video, multimedia installations.  The most powerful I saw:  a wall with little shelves holding rice – one for each farmer who has committed suicide (because of the devastating debts they incur when they get seduced into using fertilizers and new style seeds that don't reseed and soon require more and more pesticides)… with little books naming each one and including some photos.  Many tears flowed; this breaks my heart (and then sends me into rage from which I need to work hard to calm myself).
The food everywhere is amazing – lots of seafood here.  We made new friends – and have been delighted to be joined by a Seattle acquaintance for our week in the backwaters ..
During our days in Cochin we used the motorized rickshaw services of a very sweet guy, Samad, who was overjoyed to have the work (200 rupees for all day schlepping us, waiting, taking us point to point etc.  which is $4).  He hadn't had any work for 3 days and supports his family of  wife, two kids, and mother – rent of 3,000/month ($60).  What a wonderful luxury especially in the heat:  we didn't have to walk and get lost and ask directions and he knew of several interesting extra spots – like a big laundry that looked like something from another century:  wash on stones; dry on pinless ropes (twined so clothes could be tucked in); pressed with coal heated irons!
Interesting post office experience:  we decided to ship by everything we could to lighten our suitcases.  We had to have a special cloth cover tailored to cover and seal the box for shipping.  Hopefully it will arrive before I get home!
We splurged with our friend Li Lu Porter from Seattle (recently retired from Microsoft and studying Yoga here) and rented a traditional houseboat for an overnight in the lagoon/canal areas:  beautiful relaxing cruise through the backwaters – so many beautiful birds – bright blue kingfishers, many cormorants and egrets, black-white-grey birds, songbirds, parrots (we would call parakeets) – and many many coconut palms, banana trees, mango, papaya, green green rice fields, charming little houses along the narrower canals – painted vivid colors.  Serenaded by the birds and the slap of women washing on stones.  Everyone so friendly – thrilled to wave and smile back at us, happy to pose for photos.  The boat comes with a great sitting area of couches/chairs in the open air at the front – a dining room – kitchen (with a FABULOUS chef) and two bedrooms each with great bath!!  Li Lu had a friend who helped us book this boat – a new one in the traditional style but made low and narrow enough to get under the bridge and go into the smaller canals vs. most of the bigger boats.  Our guy chose a route that kept us from the more crowded areas.  We saw lotus flowers in the morning – our crew managed to pick a few for us:  so beautiful.  For dinner we ate the local state fish which was a bit heart wrenching after learning about these remarkable creatures:  they mate for life and have a very affectionate and loving relationship, gazing into each other's eyes.  They care for their young together for some time till the babes mature.  The only drawback is knowing that this growing tourist trade is adding to pollution here in the fragile environment.  There is an eco-tourist resort experimenting with solar powered boats.
And now we are in another paradise:  Mankotta Guest House outside of Haripad, a small village in the backwaters south of Allepey.  The couple, Jai and Sarah, are so welcoming, speak impeccable British English and are exceptionally knowledgeable about the history and culture,  both coming from local families and with long, rich and esteemable histories.  Their plantation was developed by Jai's grandmother (she sounds like one of kind!)  Her husband was a prosperous lawyer in Trivandrum but she preferred the country and came here to develop it on her own – building up the land for (as you dredge, you build up the mud to create land mass as an island) and building the house alongside the rice fields.  Originally they had ~300 acres but once the communists came into power in the 50's no one was allow to have more than 15 acres, so they sold most of it off.  In the 90's, when Jai's mother died, he realized he was the only son still living in India and felt called to return to the land and so made early retirement from his naval career.  They continue growing rice as well as coconut, bananas, jackfruit and some vegetables. In 1996 they decided to begin to welcome some house guests as they converted some of the no longer needed out buildings.  We are sharing a fabulously large room with a sitting area facing the canal lined with palms and trees and a chorus of birds, occasional call from the nearby mosque. So peaceful and beautiful.  (NOTE:  The actor Jeremy Irons once stayed here in our very room!!)
Here at Mankotta I feel like we are getting a private course in history.  For example, she says the high rate of literacy and economic justice in Kerala has nothing to do with having been Communist – in fact, the early communist party was brutal and corrupt and violent.  Jai's father actually helped stem that trend:  in the early days, they were so fiercely hostile to landowners they put lethal police out in the fields to keep the workers away… Jai's father contacted a relative who was an Admiral who then sent some helicopters:  the Communist Party got the message:  they were not free to behave in any brutal way they wanted… There were ties to the National Government with accountability.  We saw evidence of the wisdom of the early Rajas at the Dutch Palace in Cochin.  For generations, they were progressive with a deep base of open hearted welcome and tolerance and value of education and equality – and a matrilineal culture where property and names came from the mother (husband taking wife's name!).
Indeed, back in Cochin we learned that one of the Rajas granted the Jews of Cochin a kingdom!!!  It was also a place of peace and acceptance for several hundred years – until the destruction of that kingdom (can't recall the name – I sent the booklet home!) which some equated to the destruction of the Second Temple.  It was fascinating to visit the old Pardesi synagogue in "Jew Town" in Cochin – from 16th Century – Chinese tile floor (each unique) and Belgium crystal chandeliers.  Still in use today (though only 8 Jews in Cochin remain so they can only have a minion when visiting rabbis come – 30 Jews in all of Kerala – they all resettled in Israel but are reported to often come to visit and have all brought Keralan soil with them to Eretz Israel).
Creature sidebar:  this afternoon while dining with our host we noticed a butterfly struggling inside – dangerously close to the fan.  So our host stopped the fan (drip drip sweat sweat)… until the butterfly found its way out.  This reminded me of our Auroville frog friend:  one day I flushed the toiled and couldn't understand why this one part wasn't going down… as the swirling slowed I saw it as a frog frantically swimming upstream!  Next day he popped out from behind the mirror!
This afternoon our hosts arranged for a staff person to take us canoeing down the canal – another taste of paradise, so quiet, with village houses and life all along the way again… And a thrilling surprise:  we saw an elephant!  It's a working elephant posted at a government timber depot.  He was relaxing, eating, swaying his trunk and smile very prettily for our many photos!
Our hosts have treated us like royalty::: salt-lime drinks in the garden upon arrival; tea with yummy biscuits brought to our room in the afternoon; cocktails on the veranda early evening – and a fabulous feast for dinner with unique and wonderful Kerelan dishes. Their favorite salad was marvelous:  carrots roughly grated with apples, cilantro… hmm can't recall it all – I will get the receipe!  The dessert was definitely 'to die for':  a creemay frozen conconut delight – between cheesecake and ice cream.  I think the best dessert I've ever had.  At breakfast we had the wonderful Keralan apam with an egg cooked into it – sort of a rice crepe – and their famous banana jam (written up in a magazine):  never would have guessed it was banana just with jageri (local cane sugar) because it was the red color of pomegranetes! .,  And I had hoped to lose weight on this trip!  So readers:  have you booked your ticket to Kerala yet?
Tomorrow we head for Amma's ashram though sadly she won't be there –she's traveling in India.