GCJ Uganda
Global Citizen Journey was planning a delegation to Uganda, 'the pearl of East Africa,' from November 18 to December 4, 2020. Due to the pandemic, it is postponed indefinitely.  We continue to partner with Father Centurio, Bernard Omuse and UMOP (Uganda Martyr's Orphanage Project). We hope we will be able to join 12 North Americans with 12 Ugandans to live, eat and dialogue with one another in the not to distant future, when we can engage with the 1600 students at UMOP as well as support a health centre that cares for UMOP students, as well as community members. We are also exploring making a connection with Abayudaya Ugandan Jews and plan to arrange an optional post delegation safari.
Host Partners
Father Centurio and UMOP
Father Centurio Olaboro is a priest in the Kwapa Parish of the Tororo Archdiocese. He grew up in the era of the capricious dictator Idi Amin, and his father, a lawyer, was executed by Amin when Fr. Centurio was in his teens. In the late 80s his sister founded an orphanage on his family land to look after the emerging groups of AIDS orphans. When she died of AIDS herself, he took over care and administration of the orphanage, now called the Uganda Martyr's Orphans Project, which has grown into a school and orphanage caring for hundreds of children. He has a variety of other projects, focusing on empowering communities to take care of themselves. He lives on his family land, which he has dedicated entirely to charitable endeavors. Idwe Kolia represents Father Centurio's dream of having a branch of his organization dedicated to the support and maintenance of healthy communities.
Bernard Omuse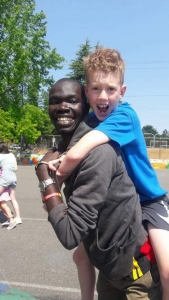 Bernard Omuse is the Programmes Director for Uganda Martyrs Orphans' Project, a home to over 2500 vulnerable children from mainly low income and disadvantaged households. He has over 10 year project management experience and currently oversees 3 functional areas of the project which are; a youth led arm-Friends of hope project, Ma's Junior School and Great Aubrey Memorial College. An ex-banker and consultant for the World Savings and Retail Banking Institute in Belgium, Bernard resigned his high profile position as an established manager with some of Uganda's most successful banks in Centenary and Equity Bank respectively, to serve his community in the area of education where his family gave up all their land for community transformation.
Over the years, Mr. Omuse has championed the cause for change for over 5000 vulnerable children especially orphaned youth in his rural town of Tororo through provision of holistic education and educational programs. He pioneered the Eastern Uganda spelling Bee, established the Tororo Kids League- a soccer tournament for kids below 15 years and this passion for children has seen him serve as a lead summer camp counselor at Peace Camp International in Seattle Washington, project of the Interfaith Community Sanctuary.
Bernard Holds a Masters in Human Resource Management from Makerere University and a certificate in Social Theory and management from the University of Witwatersrand in South Africa. He has a passion for Education, Entrepreneurship, Youth empowerment and working with children. His passion for self- employment, self-leadership and creativity has seen him inspire a number of youth into small scale business thinking and undertaking. Bernard is happily married to Sylivia and is blessed with 3 beautiful daughters. Bernard sits on the Board of Partners in Learning Uganda an Irish organisation land is motivated by continuous pursuit for excellence. Bernard derives his motivation from small wins. He smiles a lot and believes together, we are a "Hope for the future.
Further Information
Idwe Kolia, "Let the Children Grow"