Liberia 2011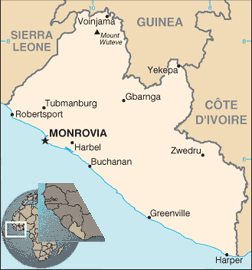 Project and Partners
GCJ is partnering with Population Caring Organization, a Liberian NGO, and Salem State University to launch the Liberia Peacebuilder Initiative with a mission to build a community-based network to foster conflict resolution, reconciliation, and sustainable peace. We are forming a Core Team of Peacebuilders representing a broad representation of Liberia's elders, women and youth, including all 16 ethnic groups, Christians, Muslims and traditonalists.   In a train the trainer process, they are learning skills  (Compassionate Listening, trauma healing, reconciliation, forgiveness, Restorative Justice Circles, large group dialogue) that they will teach their communities.  The Core team is building strong relationships amongst themselves to foster the building of understanding and trust across deep divides of age, ethnicity, class and gender.
Read more about …
final report from initial Core Team training in Monrovia, March 2011
About Liberia
Civil war has left Liberia traumatized and devastated. Conflict easily erupts at fault lines such as weakened respect for elders, ethnic tensions, and integration of refugees and ex-combatants. There is a tremendous need for local leaders to experience and learn skills for inter-group trust, nonviolent conflict resolution, reconciliation and collaborative networking – the foundations of democracy, development and a sustainable peace. LPI builds capacity to manage tensions at the grassroots, beyond Monrovia, and takes a powerful step towards creating a healthy Liberian national identity. The need is urgent in the face of imminent Presidential elections and draw down of UN forces. Read more about Liberia here.
Current Status
GCJ was the grateful recipient of a matching grant from the now defunct Foundation for Global Community as well as the estate of a longtime friend and supporter, Marilyn Saunders: through the generosity of our supporters (THANK YOU ONE AND ALL) which enable us to launch an initial phase of the Liberia Peacebuilder Initiative this Spring, with $20,500. We are $6,500 shy of what is needed to complete plans for 2011, so please make a donation and help us complete our funding. We are basing our efforts in Monrovia and developing a core group of 35 diverse Peacebuilders who have strong connections to the rural communities throughout the counties.
Our partner organization, Population Caring Organization (PCO), has been reviewing conditions in Liberia as well as building relationships with local groups. They are working on holding monthly events in order to increase awareness of the Peacebuilder Initiative. Click here to read PCO's full report.
Related Links
These links all open in a new window.