Pray the Devil Back to Hell is the extraordinary story of a small band of Liberian women who came together in the midst of a bloody civil war, took on the violent warlords and corrupt Charles Taylor regime, and won a long-awaited peace for their shattered country in 2003.
As the rebel noose tightened upon Monrovia, and peace talks faced collapse, the women of Liberia – Christian and Muslims united – formed a thin but unshakable white line between the opposing forces, and successfully demanded an end to the fighting– armed only with white T-shirts and the courage of their convictions.
In one remarkable scene, the women barricaded the site of stalled peace talks in Ghana, and announced they would not move until a deal was done. Faced with eviction, they invoked the most powerful weapon in their arsenal – threatening to remove their clothes. It worked.
The women of Liberia are living proof that moral courage and non-violent resistance can succeed, even where the best efforts of traditional diplomacy have failed.
Their demonstrations culminated in the exile of Charles Taylor and the election of Ellen Johnson Sirleaf, Africa's first female head of state, and marked the vanguard of a new wave of women taking control of their political destiny around the world.
This remarkable chapter of world history was on its way to being lost forever. The Liberian war and peace movement were largely ignored as the international press focused on Iraq. Moreover, the women's own modesty helped obscure this great accomplishment.
Pray the Devil Back to Hell reconstructs the moment through interviews, archival footage and striking images of contemporary Liberia. It is compelling testimony to the potential of women worldwide to alter the history of nations.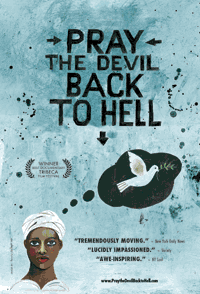 The story of the Liberian women who joined together to demand peace for their shattered country was very nearly forgotten in favor of the history written by Liberia's warlords. In 2006 Abigail Disney traveled to Liberia [with the Women and Public Policy Program at Harvard's Kennedy School of Government] in the hopes of offering whatever support she could to the first woman elected head of state in Africa, President Ellen Johnson Sirleaf.  While she was in Liberia she heard a snippet of the story from a woman in conversation. The woman referred to it in passing, assuming that Abigail already knew about it. It sounded like something significant, but the moment passed so quickly Abigail wasn't sure she had heard her right. Later, it happened again with another woman. And again. And again…Abigail returned to New York haunted by the story. She told the story to director Gini Reticker and they wondered whether it would make a good film. Then they met Leymah Gbowee who was so magnetic and compelling, the two women knew at once that the film must be made.