Emmanuel and our loyal PCO crew (Alex, Madison and Pauline) delivered me back to The Tides, where I am staying, after a satisfying day in the field.  Now I'm sitting on the open air deck of the café/bar above my little studio – with a lovely cool breeze, the sky pulsing with lightening flashes…  but alas, no internet connection nor TV-cable signal.  WAWA (West Africa Wins Again), especially in the rainy season.  Hopefully by the end of the night I'll be able to get on line and send this message!
We began with a visit to the Council of Tribal Elders, where we were greeted and endorsed by the National Chief.      Two of our Peacebuilders are part of the Council, so they gathered a dozen people to demonstrate/explain what they've been learning.  More were expected – but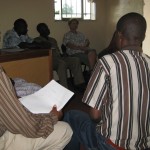 people's mobility and activities are often curtailed during raining season.  [It's always hard to get around – it often takes an hour to flag down one of the drop-taxis, which cram as many bodies as possible in for a cheap fare.  In the deluge-pouring-rain it is even more miserable.]  Alas, none of the women were here.  Still, the two guys did a sweet job of sharing the importance of what they are doing – and they gave a little demonstration of compassionately listening to each other.  They did a great role play with one of them acting very upset and yelling at the other, who managed to stay calm and centered and listened actively and (with a little coaching from the side) reflectively.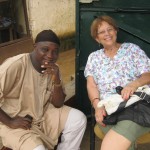 Later that afternoon we visited   the community of one of our Imam's, Muhammed, who gathered about 20 men and 2 women (behind the curtain) at the local mosque – very apologetic to not have more.     He is a great speaker and really gets the essence of what Compassionate Listening is all about.  Together, we led the group through paired-listening and then facts-feelings-values.  They had great questions about challenging situations.  I left feeling hopeful that Muhammed has a responsive and receptive community to work with.  It was a beautiful sight to see the Muslim men deeply engaged in compassionate listening in their mosque.
Today started with a two hour wait for Emmanuel:  car break down and other complications…  Now I am holed up in an Internet café, as the internet at my lodging is down.  So dear readers – appreciate the comfort and infra-structure ease with which you are probably viewing this entry!
Side note:  Life is quite dear here, especially when you consider the low low wages:  $4/gallon for gas.  $5 for 15 eggs.  $1 for the cheapest small bottle of beer in the market.  $9 for 'chicken wings' as a snack at the bar.   $11 for a simple lunch at a restaurant.  Most people have to live on $1-2/day … so the struggle for survival is intense.