About Liberia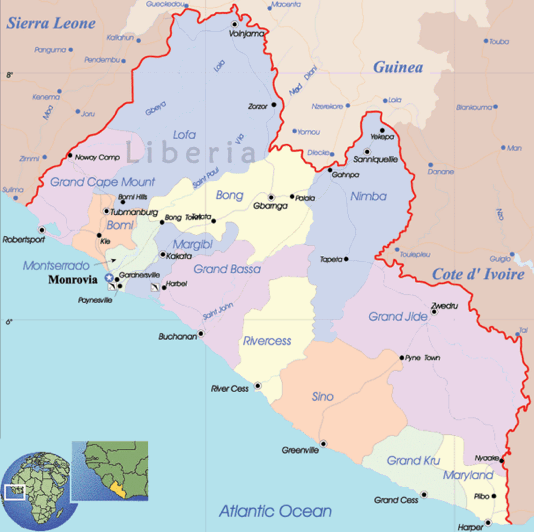 Liberia is a country on the western African coast whose capital is Monrovia. Sierra Leone lies on the northwest border, the Atlantic Ocean to the west and southwest, and Cote d'Ivoire to the east of this 43,000 sq. mi. land. The land itself is primarily flat, with plains along the coast and small mountains further inland. Liberia has a tropical climate: in the winter there is little rain and temperatures range greatly over the course of a 24-hour day, whereas the summer is monsoon season.
Roughly 3,440,000 people live in Liberia. The median age of the population is only 18 years, and a Liberian is expected to live only about 42 years. Yet more disturbing is the fact that the country has the sixth highest mortality rate in the world (approximately 21 deaths per 1,000 people), and the world's fourth highest infant mortality rate (approximately 139 deaths for every 1,000 live births). All members of the population are at very high risk for contracting major infectious diseases.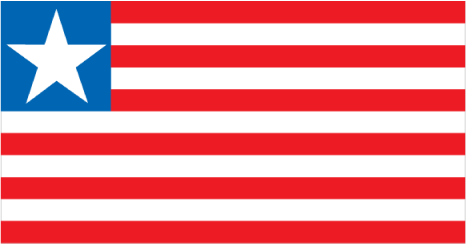 The history of Liberia is inextricably tied to that of the United States: "Liberia was purchased in 1822 by the American Colonization Society (ACS) as a destination for American freed slaves and was the closest the United States ever came to taking a colony in Africa" (Blue Clay People, 4). Those former slaves who emigrated to this new land have become known as Americo-Liberians, as distinct from an existing population of native peoples belonging to 16 different ethnic groups (Kpelle, Bassa, Gio, Kru, Grebo, Mano, Krahn, Gola, Gbandi, Loma, Kissi, Vai, Dei, Bella, Mandingo, and Mende). In 1847, these new settlers formed a republic that in many ways paralleled the aristocratic slave culture from which they emigrated in the US. "Under the black colonial aristocracy that emerged, 99 percent of the population of indigenous Africans…were disenfranchised and forced to labor on Americo plantations" (BCP, 21).
Despite the fact that it is a relatively young country, Liberia has experienced a succession of momentous epochs that have at times threatened or destroyed its stability as a republic as well as the continuation of the peaceful coexistence of its diverse array of ethnic groups. In brief, Liberia's history proceeds as follows:
1944-1971: The Era of Americo Presidents: During this time an aristocratic relationship was forged between the native peoples and the Americo-Liberian settlers. A major priority for the Liberian presidents in this era was to encourage foreign investment in Liberia.
1980-1989: The Era of Samuel Doe and His Legacy: Samuel Doe led a coup against the existing government. An authoritarian regime that ruled for nearly emerged in the wake of the destruction of the republic.
1989-2003: The Era of Charles Taylor and the Liberian Civil War: Charles Taylor, who had been trained in Libyan terrorist camps, and others rebelled against the authoritarian regime, thereby ushering in a period of civil war. Samuel Doe was killed in the height of the unrest, and "[w]hile the war officially ended with the 1997 elections (which Taylor won by a landslide, campaigning under the promise that if not elected, he would restart the war), Taylor continued to sponsor Sierra Leone's Revolutionary United Front (RUF) rebels" (BCP, 12). By 2000 Liberia was once again in the grip of civil war.
2003- : Beyond Civil War and Towards Civil Reconstruction?: The historical tide turned once again for Liberia in 2003, with the signing of a peace treaty that signified the end of the civil war. This document also removed Charles Taylor from his position of power within the country. After a period of transitional government, the current Liberian president, Ellen Johnson Sirleaf, was elected in 2005.
The cessation of civil war and the election of a new president surely serve as signs that progress towards peace in Liberia has been made. Nevertheless, major issues remain unresolved, for "although civil unrest continues to abate with the assistance of 18,00 UN Mission in Liberia (UNMIL) peacekeepers, as of January 2007, Liberian refugees still remain in Guinea, Cote d'Ivoire, Sierra Leone, and Ghana" (CIA World Factbook). In addition, the sixteen indigenous ethnic groups in the land continue to coexist uneasily at best; tensions, resentment, and the desire for revenge loom as a constant threat amongst these people who were used as political pawns over the course of Liberia's history. Mediators without Borders explains that "[t]wenty-three years of active fighting – with families scattering or turning on each other, and constantly shifting factions exacting revenge through torture, pillaging, and coercing innocents into committing atrocities – damaged hundreds of thousands of Liberians and destroyed the systems that could support their recovery. An entire generation has lived solely in survival mode, with little or no knowledge of family, community, self-support, rule of law, or education" (Trauma Healing Concept Paper).
In the years since the end of the Liberian civil war, some promising efforts have been made towards healing and reconciling the lives of individual Liberians. One NGO, Mediators Beyond Borders, "works with a myriad of Liberian organizations and civil society and traditional leaders to contribute to building a stable peace, so that the vast suffering inflicted neighbor-on-neighbor will never be repeated. Mediators Beyond Borders' experience in the sub-region began with rehabilitating former child soldiers in a refugee camp, a project that has successfully repatriated the young men and women and is seeing them through safe reintegration into community" (Trauma Healing Concept Paper). Now MBB hopes to provide similar rehabilitation services for many communities in Liberia, benefitting the many different sorts of people who were victimized by the years of war in their country. They also intend to offer conflict resolution training and country-wide trauma healing interventions. MBB will also work with Liberian women, encouraging them to achieve a higher social and economic standing within their communities.
Another NGO, Population Caring Organization, takes a more holistic approach, recognizing that "still much more is needed to consolidate the effort at the community and tribal level, in order to build a sustainable and lasting peace" (Project Liberia – Peace and Conflict Resolution). PCO aims toward the four-fold target of conflict prevention, containment, transformation, and termination by striving to understand and focus its efforts on the various ways in which groups of Liberians can come at odds with each other. Beginning in May 2003, PCO's objectives have manifest themselves through work with the Buduburam refugee camp, where they have actively promoted discussion about war prevention and the furtherance of peacemaking activities. Through various means, they have worked with children, adults, and tribal leaders. The aim at present is to continue and expand PCO's efforts in Liberia.
Global Citizen Journey is developing a 2010 delegation to Liberia that will work in conjunction with Emmanuel Dolo's Population Caring Organization. To learn more about GCJ's upcoming project and host, please click here.