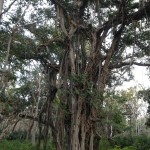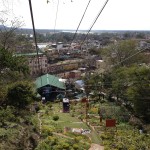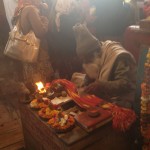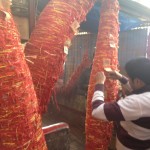 Haridwar
Later that night we found our way to Haridwar and were happily ensconced in a lovely little hotel, La Casa (yes – a Spanish name though an Indian owner).  Again we were adopted by all the staff who clucked over us like mother hens for every little need.  At our first restaurant stop (ohmygod have I mentioned how amazing each and every meal is!) I made the faux pas of asking for a beer (we've only had 2 so far this whole month in India!).  "We are a holy City; no beer!"
We loved the crazy bustle of the one main thoroughfare:  ubiquitous honking, pedi-shaws, horse drawn carts, tuk tuks (motorized rickshaws), motorcycles, dogs, cows, donkeys, new cars, bicycles bearing every load you can imagine… A riot of color and sound – women in their gorgeous saris – men with amazing turbans… And then escaping down a sound street to quiet alleys with sleeping homeless, resting pilgrims – so many stands of various colorful prasad – here they use banana leaf 'boats' filled with flowers and oil lamps you can then float down the river.  At the ghats many pilgrims kneeling at dawn and dusk to bathe, douse with the holy waters of the Mother, the Ganges – this is very near the source of the river, where it emerges from the Himalayas.  Every dawn and dusk at one main spot (Har-ki-Pairi Ghat – the Footsteps of God)  near a temple monks gather a huge crowd for ganga aarti (river worship ceremony) with chanting, cymbals, horns – huge candelabras, powdered color dyes – what a spectacle as pilgrims bathe and send off their prasad flower boats… They call to the crowd to great and thank and bless and receive the blessings of the Mother Ganges and all raise their hands… This is the place where Vishnu is said to have dropped some heavenly nectar and left behind a footprint. For Hindus, the place to wash away your sins.
…of course the other side of India invades this spiritual sweetness:  there are the 'crowd control' police who blow their whistle and insure that people sit down or move to the back – and they at various intervals begin hawking for contributions to charity giving out little receipts.  Hard to know if these donations go beyond their pockets… and hard to resist a uniformed official's demands.
In Haridwar there are two temples high up on the hills – Mansa Devi and Chandi Devi:  you take a cable car to get there.  Once at the top of Mansa Devi (the wish fulfilling goddess) there is a warren of hallways filled with prasad sellers (candles-statuettes-pictures-flowers-incense) – and then a series of little alcoves, each with a monk and some different blessing process.  (And the all important receptacle where you are to place rupees!).  They give Tika (a dot on your forehead) – sometimes you kneel – some ask your name and sing or recite a blessing – at one station the old monk says a blessing over a thread and then you tie it around a post.  Many of the pilgrims are transfixed and you can feel the depth of their experience.  Yet on the other hand – it is crowded and pushy and many are insisting about the money… Our hotel staff friend bemoaned the commercialization of spirituality here.
At this temple floating over the City I experienced another encounter with Indians that has become familiar:  there were a couple of darling young girls adorned with ribbons for their pilgrimage and they happily agreed for me to take a photo.  Once I showed them – their whole family – dad, mom, grandma, auntie, little brother – all wanted to be in the photo… And then:  they all wanted a photo with me.  We have had so many people ask to have our picture taken with them!  We hear some of these may show up on Facebook and other places – some with claims that we are actors or some famous person. Who would think it of 2 old ladies?!
Rajaji National Park
Next day we took a jungle safari to the outskirts Rajaji National Park (park was closed due to rain the night before) and made another wonderful new friend – from Modesto, CA.  She had just come back from the Kumba Mehla where she bravely went all on her own.  It was fascinating to hear of her experiences and the array of holy people and touts and shams that she met there.  She was embraced by an ashram with their guru and under their wing was able to experience the deep spiritually present for so many – including heading to the Ganges several times to bathe as well as meditating.  On the other hand, one encounter with a supposed holy man shockingly turned out to become proposition when he suggested they have sex… And, as for many westerners – it was difficult for her to manage the reverence and obeisance to the guru – a similar reaction I had amongst Amma's supporters.
(Did I mention we sadly decided not to go to Varanasi this trip because we had heard it was vastly overrun with so so many people from the nearby Kumba Mehla?  First on our list for our return trip to India for which we are already salivating!)
On our jungle safari – we just missed an elephant:  fresh, steaming pile of manure, sounds of crashing through the jungle… but no glimpse.  As well.  We did see two kinds of kingfisher (one a deep rich red-brown, one bright blue), two types of bright elegant parrots, buffalo, peacocks in the trees, rhesus monkeys and lemurs, eagles, hornbill, martens, spotted deer, astonishing Banyan trees, etc etc.  Lovely!  Our guide was incredible at spotting the wildlife through vision and sound – so attuned to his home in the jungle… We did get to visit some working domestic elephants at the forest rangers' station.  Closely:  indeed, we got sprayed with trunk snot!  Fascinating to watch the elephants strip the bark off the tree branches they were given for eat:  they only like the bark, not the leaves.  What they can do with those trunks!
Rishikesh
Next day we headed to Rishikesh (made famous by the Beatles at the Maharishi Mahesh Yodi) and enjoyed our meandering down the narrow, steep wandering road lined with Ashrams, yoga schools, and souvenir stands.  The suspension pedestrian bridge was quite a trip – swaying in the wind, packed with people, cows, monkeys, dogs, motorcycles… View of crazy many storied temple like buildings of the two oldest ashrams/yoga schools…  We drove further way through the exquisite country side, up the rice-field terraced mountains to an old and reportedly very holy temple:  it appeared nearly in ruins – again, a warren of dark, confusing passage ways with food and prasad vendors – then a courtyard into a series of little alcoves with the monks and their bowls of rupees… All very dingy and dirty.
We had an interesting conversation with one of our hotel staff who expressed his view of karma and the purpose of life – as fulfilling one's duty.  He advised we study the Bhagvad Gita which would reinforce this lesson – even should it require you as a soldier to kill your own relations – so long as it is the rightful duty. My struggle:  if everyone thinks God is on their side, how do we ever know what is rightful duty?
From Haridwar to Jaipur
Our departure from Haridwar, which we'd come to love, was rather dramatic:  we were waitlisted #1 and 2 for the train and had been assured this would be no problem – you can always get on since there are many no shows and cancellations.  What we didn't understand is that we had unwisely chosen 1st class AC and this has only a dozen seats or so, so there are no open options – better to choose 2d class AC.  Our ticket was automatically cancelled when the train is 'chartered' with seat assignments about an hour and a half before departure… As our friendly staff uncovered all this – and mistakenly thought we were headed to some destination where a big festival was happening – they began saying we should just stay over another night and leave the next day – Kathy saying sure sure – I began freaking out:  no way!  Our stay in Jaipur would become way too short and I was so ready/set to move on…  So with a staff we headed to the train station to try to plead our case… Went from one official to another – they tried to find a way – but no seats… I recalled there was another train that same day and convinced the staff-helper… Yeah!  We –after much haggling and I believe some special 'tipping' — were able to get 2d class AC for a train later that night!  Our hotel let us go back and use our room all afternoon, no extra charge – and they were so kind and apologetic for our stress…for which really they had absolutely no responsibility!
We enjoyed the train and slept quite well.  Our compartment mate was a delightful young man from Jaipur, so he coached us on all the things for us to see.  And I lucked out again:  there was a western style toilet!  With my cranky old knees it is a trial to manage the squat toilets:  I have been so lucky and only had to struggle a couple times so far!
It was fascinating to hear our Jaipur friend's experience in Haridwar:  he is newly married but having to live separately this year as his wife finishes graduate school near Haridwar.  This was one of their first times together without the extended family – and they were quite overwhelmed with the touts and the hawkers at the aarti ceremony as we were.  They wanted to light the candle for their prasad-boat on their own, to really reflect on their blessing and take their time… but the seller insisted she light it and when they got to the river one of the uniformed guards got very pushy and grabbed there basked, floated it away and demanded payment …
So dear readers:  good night for now: we are happily in to yet another chapter of this incredible journey here in Jaipur at a lovely heritage garden hotel… More on that next time!
Rishikesh